Chassé Theater
Claudius Prinsenlaan 8

,

4811 DK

Breda

, Netherlands
Room rental in the new normal
We are ready to receive events in the Chassé Theater in a safe and responsible manner. We would like to refer you to our website for the most up-to-date information.
High-quality A-location in the heart of the Benelux
As the largest and most diverse theater in the south of the Netherlands, we offer a unique, multifunctional location for your events and meetings. Beautifully situated in the center of Breda, easily accessible, more than enough parking space.
Our dazzling building with three theater and cinema halls is iconic for the city of Breda with its undulating roof and hosts many congresses, product presentations, meetings, parties and public events every year.
Our largest Jupiler room has 1,430 seats on a fixed stand. In addition, the Koninklijke Drukkerij Em de Jongzaal (665 chairs) and the Kinlyzaal (212 chairs) have a roll-up stand with which rooms of 300m2 and 750m2 can be created, respectively.
Whatever you organize, here's what you can expect from us:
one point of contact in preparation, execution and afterwards,
professional guidance before and during your event,
an enthusiastic, service-oriented and enthusiastic team,
boundless creativity in a theatrical world,
excellent facilities both in front of and behind the scenes,
smooth cooperation with specialized partners in the event industry.
A stone's throw from Rotterdam and Antwerp
Surrounded by the A16, A27 and A58 highways, the Chassé Theater is very easily accessible. The Chassé Theater is less than 40 minutes from Rotterdam and Antwerp by car.
The Chassé Theater is also perfectly accessible by public transport. The central station is only a beautiful 10-minute walk through the attractive Valkenbergpark away from us and there is a bus stop in front of the door. From April 9, 2018, Breda Central is on the route of the high-speed line.
The theater is located on the edge of the center, making the city and the various hotels easily accessible.
Ample parking
There is ample parking space around the Chassé Theater. For example, you will find parking garages Chassé Parking and Het Turfschip within walking distance and parking lots Chassé Veld and Beyerd / Vlaszak. All parking around in managed by the Municipality of Breda, rates are € 2 per hour everywhere with a maximum of € 10 per 24 hours.
Description of the rooms
The halls of the Chassé Theater are equipped with beautiful technical facilities with which we can provide different conference arrangements in addition to standard conference options. Our warehouse has an extensive range of technical materials. If you have wishes that we cannot fulfill with your own materials, we will work with the technical parties that you prefer.
In addition to three large (plenary) theaters, we have a wide range of smaller spaces that are very suitable for subsessions and workshops. Three cinema halls (117, 68 and 118 seats), seven foyers, two restaurants, an Artists Café, a Dance Studio and various dressing rooms.
Celebration of the 75th anniversary of the liberation of Breda
On October 29, 1944, exactly 75 years ago, Breda was liberated by the First Polish Armored Division led by General Maczek. The long-term relationship with its Polish liberators inspired many Breda residents to organize festivities in October, where commemoration and celebration are central. Events were also organized in the Chassé Theater, such as a free concert with folklore, dance and ...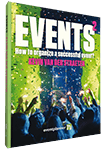 Activities Chassé Theater
Activity regions:

Noord-Brabant | Netherlands
Activities: