In April, we announced that we were rebuilding the analytics engine of the eventplanner.ie platform from scratch. Meanwhile, the dashboard for advertisers is ready! It provides valuable insights into campaign performance based on big data and artificial intelligence.
Since the beginning of this year, we have been collecting all interactions of our visitors with the business pages of our advertisers in a brand new data warehouse. This allows us to process gigantic amounts of data. That data provides valuable insights. As an advertiser, you get real-time insight into the reach and engagement of your posts, the number of likes, clicks, reviews, widget views, ... of your business page. You will also learn which keywords our visitors use to find your page, how the categories in which you are listed rank, and which regions visitors come from.
Another new feature is that you can filter accurately to view data from a specific period. The trusted engagement score that evaluates the engagement of our visitors and compares the performance of your campaign with other advertisers in the same categories has of course remained.
All this is just the beginning of a new wave of innovation. In the coming months and years, we will be adding more and more insights and functionalities to the KPI dashboard. Now that the foundation has been laid and we can scale to process terabytes of data per second, we are ready for the future.Example with fictitious data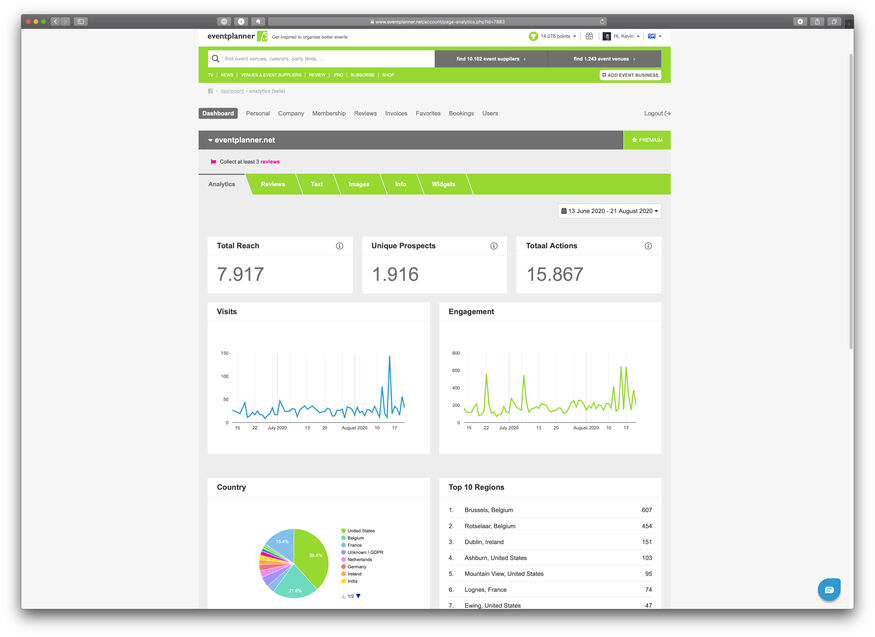 Artificial Intelligence
The huge amount of data also provides new possibilities to recognize usage patterns and thus offer our visitors the best possible user experience. By using smart AI algorithms, we make the business pages of our advertisers more attractive to potential customers. This ensures a significantly higher conversion rate and impact. And this is just the tip of the iceberg of possibilities. For example, our marketing is now fully automated. eventplanner.ie thus gains unprecedented clout and is ready for the future.
Privacy 100% guaranteed
The privacy of our visitors remains our first priority. It is thanks to the trust of our visitors that we can welcome more than 250,000 visitors every month across all our sites. Therefore all reports are completely anonymous. At no time will our advertisers have access to our community's individual data. And that is fully in line with the strict GDPR legislation.
Do you already have a free or professional business page for your event company? Then you can discover the new KPI dashboard here.
Would you like to know more about our passion for technology, innovation and events? We give you a unique insight into our internal kitchen in the manifesto that we recently shared publicly.