Any professional who runs events understands the need for streamlining the planning logistics. It's not always easy, especially if you want to deliver high-end results and a memorable experience for your attendees.
Let's be honest: Planning an event can be painful, and the pain level skyrockets if you don't have an event management background. So what do you do? Luckily, you have the possibility to choose between planning the event in-house (ouch!) or hire an event agency.
You might bristle at the idea of hiring an outside agency to help with you event. A third-party agency will never know your company better than you and your team(s) does. How on earth can people from another company successfully set up your event if they know nothing about your brand?
No worries-a simple briefing during an introductory meeting can solve this problem.
Apart from that, as the entrepreneur Kevin Van der Straeten suggests, "Events agencies have an objective view of your company and are therefore better able to exploit your strong points and minimise your weak ones. Your own staff are more likely to suffer from selective blindness as far as the latter are concerned! In addition, an agency is an ideal sparring partner and sounding board for the exchange and development of new ideas."
Hiring an event agency to do the heavy lifting for you may end up being the best decision you could ever make. However, finding someone you trust to plan your event can be challenging. Unless you know a brand through recommendations, you have no other choice than to choose a random agency and hope things will work out.
But even without any recommendations, there are still some ways to find a truly good event agency. Here's how you can do it:
#1. Go for an event agency that is generous and creative with its content
A good way to gauge an event agency's expertise level is by analyzing the way it promotes itself online. Obviously, an agency could just use Google AdWords or banners, but is that really enough?
Powerful brands use marketing to add even more value to their prospects and clients, meaning they won't just try to 'push' their services, but instead actually share their expertise online. Check different agencies' websites and social media channels for original content. Are they using their resources to produce interesting blog posts or videos? Are they trying to be useful and add real value?
If you find an event agency that puts time and meaning into its content marketing strategy, chances are you've found a truly professional team that knows how to keep up with the market's changing demands.
#2. Analyze your first interaction with the agency representatives
Sometimes, initial red flags can appear right off the bat. The agency representatives may not be very responsive, have an unfriendly demeanor, not comprehend your needs, or be careless with time-sensitive emails.
If this happens, don't just immediately write the agency off - first ask yourself if you provided all the necessary information about your event and were clear enough about your needs. If you feel you were, then proceed with searching for another event agency. You don't want to want to work with an organization that's toxic or unprofessional.
#3. Take note of how the agency works
Before signing a contract with an event agency, make sure you understand the agency's work process. What's its planning protocol? What's expected from you? What does the agency cover? What's its specific approach to logistics?
The answers to these questions will give you a clear idea if the event agency is compatible with your company and if you share the same work values.
#4. Pay attention how the team responds to your needs
In the world of events, reaction and speed are everything. Obviously, you shouldn't expect replies to your emails five minutes after you send them. However, you'll be able to evaluate the event agency depending on how reactive its members are.
Planning an event is unpredictable, so you never know when you'll have to change something. A good event agency will always be fast to follow the change and update everything.
#5. Start with a smaller and less costly project
It's not always easy to really know if an event agency is truly good or not. If you have doubts, try engaging their services for a smaller-scale project.
For example, if you're anticipating a big conference next year, this year you may want to try hiring the agency for a less-demanding and risk-free project, such as planning an executive breakfast or a small corporate meeting. This will let you see how the agency team works and its ability to deliver high-end results.
#6. Read reviews on eventplanner.net
And of course, read the reviews on event agencies on our website. Is your agency not listed yet? Get your business page now!
Wrap-up
Choosing an efficient agency for your event may take some time, so make sure to recognize your needs in advance and start searching for an agency long before you'll need to plan your event. Take your time and thoroughly research as many agencies as you can. Engage in exploratory meetings with them. Analyze their responsiveness and work protocol, and only then make a decision.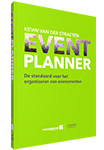 More about this topic and lots of other tips about organising events can be found in the book EVENTS.