People may not remember the awesome speakers from your event, or the incredible food. They might also forget all about the video transitions between dynamics and the ice-breaking games.
But they'll most certainly remember if they attended your event and it was a big mess. Apart from accompanying the attendees through their event experience, you also need to make sure the venue is adequately maintained.
Although we don't really talk about it often, a clean, safe venue is one of the most important logistical aspects. However, there are moments when we may disregard it, thinking that it's taken care of. Indeed, in most cases, cleaning services are part of the venue rental contract. You should always be aware of the cleaning agreement, but never solely rely on it.
To equip you with the necessary information, we've put together a series of venue maintenance practices for you to keep in mind:
#1. Make sure the garbage cans are always empty
Nobody wants to see trash cans overflowing with all sorts of debris. Apart from leaving a bad impression, it makes it impossible for attendees to throw away their own garbage. And you don't want to keep them searching for a garbage can that is a bit emptier.
Your guests will feel neglected, and you'll compromise the entire attendance experience. To keep this from happening, make sure that the cleaning services will provide on-site assistance and empty the garbage cans whenever needed.
#2. Plan for any type of maintenance emergencies
Knowing that anything can happen during an event, going with a simple, post-event cleaning might not be a good idea. Instead, think about keeping a cleaning team on standby for the entire event, so they can react immediately in case of an emergency.
Before the event, you can brief them and agree upon different types of maintenance emergencies and the best solutions. Also, it's important to decide how you'll communicate any emergencies to the cleaning crew.
#3. Keep the floors clean
Floors should be sparkling clean (and dry!) at all times. Obviously, you won't ask the cleaning team to rush into every room after every single dynamic. However, keep in mind that this procedure will be necessary at the end of the day.
Moreover, the cleaning team will have to keep an eye on the spaces where people usually enjoy their coffee breaks or lunches. In these situations, things are more likely to spill or stick to the floor, making attendees more prone to accidents, so the floors will need extra attention.
#4. Agree upon detailed cleaning before the next event day
When running a multi-day event, you'll have to ensure the space is thoroughly cleaned every evening. Apart from the floors, the cleaning team will have to take care of the entire facility. That's why setting clear standards and a cleaning plan are so important.
This plan must include things such as cleaning all equipment and furniture and reviewing the trash disposal procedure, how many workers you'll need, the recycling protocol, etc. What's important is that at the beginning of each event day, you can guarantee your attendees a fresh, clean space.
#5. Keep the bathrooms well-stocked at all times
Another important aspect related to facility maintenance is to make sure the bathrooms have plenty of supplies. This is essential, especially if you're running a large event. This will show your guests a great deal of responsibility and care.
Keeping an event facility clean can be challenging. Establishing cleaning standards and a specific protocol, however, will keep you out of trouble. Talk to the cleaning team before the event and decide the way you'll be working together.
Walk through the entire process step by step and determine who is responsible for each sector or cleaning parameter. And most important, determine the way you'll be communicating during the event to assure any unexpected occurrences will be properly managed.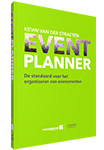 More about this topic and lots of other tips about organising events can be found in the book EVENTS.