In its latest report, the International Congress and Convention Association (ICCA) ranked Paris the world's number one destination for meetings, outpacing the second-place holder, Vienna, by a margin of 40 meetings. In the 'top country' list the U.S.A. remains unchallenged for another year.
Paris climbs to the top of the city rankings by number of international association meetings with a landslide margin of 40 meetings above second place holder Vienna. In 2017, Paris and Vienna held joint second place, with 190 meetings each. Last year's number one Barcelona falls to fourth place, with Madrid entering the top 5 for the first time since 2015 in third place. Among the top 5 cities for another year, Berlin falls to fifth place from fourth in 2017.
Remaining in the top 10 but changing position are London, Prague, Singapore and Lisbon. London, Singapore and Prague drop to seventh, eighth and ninth place respectively, and Lisbon climbs three positions to hold sixth place. Bangkok rises seven places from 17th to 10th, knocking Seoul out of the top 10. Seoul falls to 15th place, surpassed by top 20 risers and joint position holders Amsterdam and Tokyo, which jump from 16th to 13th place and 18th to 13th place respectively. Buenos Aires stays firmly in 11th place and Hong Kong rises to 12th. Dublin drops four places to 18th, and Stockholm holds 19th place for another year. Montréal, QC and Rome drop out of the top 20, and newcomers Brussels and Taipei enter in 17th and 20th place.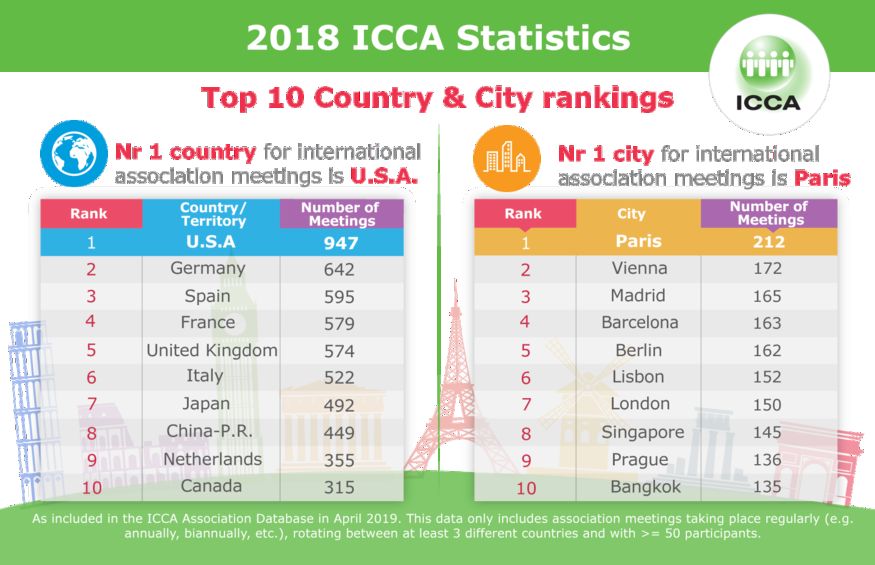 U.S.A. remains unchallenged for another year
In an unsurprising turn of events, the U.S.A. remains in the top country spot, unchallenged for over two decades. Germany remains in second place and 2017's number three the United Kingdom drops to fifth place, overtaken by Spain, which rises to third. After exiting the top 5 last year, France re-enters in 2018 in fourth place. Italy replaces France in sixth place, and Japan and China-P.R. remain in seventh and eighth place for another year. The Netherlands and Canada swap positions, coming in at ninth and 10th respectively.
Portugal remains in 11th place and Republic of Korea climbs one position to 12th. Brazil and Poland fall one place to 17th and 19th respectively, and Switzerland drops to 20th place, while Australia and Sweden climb to 13th and 14th. Austria remains in the top 20 but falls four places to 16th. Newcomer Argentina regains its position in the top 20 after falling to 21st place in 2017, knocking Denmark from 20th to 22nd place.