In a world where we are constantly bombarded with virtual invitations - from meetings to concerts, birthdays, and happy hours, it is imperative to consider new ways to improve our virtual offerings.
Google Trends have indicated an increase of 1100% for the search term 'virtual events' for the period beginning at the end of February to the end of March 2020. Considering that they are a hot topic, now is a good time to ensure that your virtual event leaves a mark.
1. Marketing & Event management plan
Never underestimate the power of a great marketing and event management plan. When you market your event, consider that this might be a person's first exposure to your event. You want to entice people to be excited to attend your event. With virtual events, unlike in-person events, networking might not be your biggest selling point anymore. In this case, it is important to remember that ye' old saying: content is king. Compelling keynote speakers and well-tailored topics are the order of the day. Find out what your attendees would like to see, who they would like to hear from, and offer a wide range of different themes and topics that will appeal to different attendee types. 
2. Engaging & Interactive Content
So you got them to attend, now what? Now, it is up to you to keep them engaged. With in-person events, your attendees offer a higher level of commitment. People travel from far and wide, taking time out of their lives to be there. With virtual events, people can easily get distracted by what is happening in their homes and if they so wish, leaving your virtual event just requires the click of a button. Ensure that your content is adding value to your attendees' lives and remember to create memorable moments. Maya Angelou once said, "People will forget what you said, people will forget what you did, but people will never forget how you made them feel." Encourage their participation throughout the virtual event. The last thing you want is for your attendees to feel inferior. You want to create a space that allows your attendees to feel like they are an active part of the event, that they feel heard, and they are able to share their experiences with the speaker and other attendees. Explore ways to incorporate motion and other graphic design elements to enhance the visual experience.
Pro-tip: include a variety of live and pre-recorded content. Audiences may enjoy the live experience more, but pre-recorded content gives you (the organizer), the added benefit of control, in case technical glitches arise. Last month, Deepak Chopra held a live meditation that crashed midway through, leaving attendees with a blank screen for more than 20 minutes. Pre-recorded content can help you to avoid such pitfalls.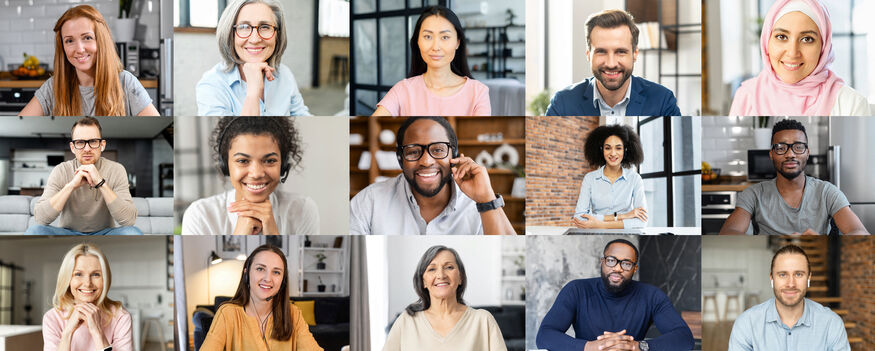 3. Accessibility & Inclusivity
While there are many benefits to in-person events, virtual events offer the opportunity to be easily accessible and more inclusive. In the event that an attendee might drift off due to responsibilities or disturbances at home, you can offer the option to make the content available on-demand almost immediately. If your event was private, you can use content from your virtual event to be shared with those who might not have been eligible to attend. You can share highlight reels or snippets of sessions as a marketing tool for your next event. 
4. Consider the data 
Take a look at the analytics and use this information to inform your next steps. It's great to collect leads, but it is also important to acknowledge and address the feedback that you receive. There are platforms that offer live analytical reporting, making it easier to segment data and communicate with different groups of attendees. If you choose the appropriate platform, you will be able to reach out and follow up, giving you the opportunity to address concerns and streamline any pitfalls quickly and efficiently.
5. Choose the right platform
Most importantly, ensure that you choose a platform that is suitable for your specific event needs. Don't simply opt for a platform that is currently the buzzword around town. Understand what your event will need - perhaps it is important for your attendees to network via a virtual lobby. Do some research into finding the platform that will offer the best virtual solutions for your attendees.
Ready to make your events stand out from the crowd? Start a 30 days free trial with InEvent.