Everyone who organises events has had to deal with it. An unannounced wheelchair user. How do you quickly offer them a place?
Marianne Dijkshoorn has come up with a solution: the so-called wheelchair mat.
A wheelchair user brings his/her/its own chair. The wheelchair user often hears: "Park somewhere". Where is somewhere? Center aisle, back, front? With the chance of someone getting in the way? It also sounds like: "Sorry we didn't count on you and I have no idea where you can stand, so find a place where you might see something of the experience." Not really welcoming.
With a wheelchair mat you can make a place (possibly last minute) for someone in a wheelchair. Other guests understand the place designation and are less likely to step on the mat or move their seats. This approach is also a lot safer, after all, technically, all aisles must remain clear... so also free of wheelchairs.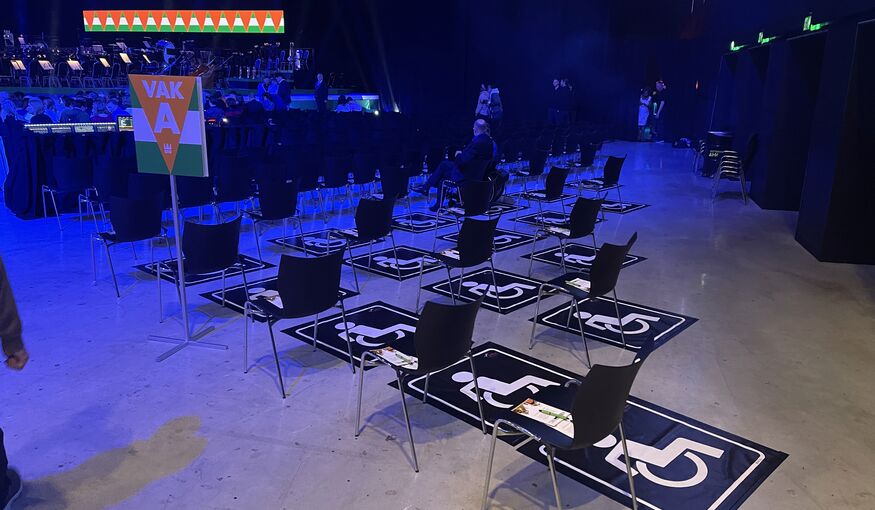 Possibilities
You can rent or buy the wheelchair mats. When sold, the mats can be made in the house style of the organisation or event. The mats are available in two sizes: 95 x 95 cm, suitable for theater setups and 70 x 70 cm, suitable for conference tables and dining tables. These are smaller because the feet stick under the table. An assistance dog mat is also an option.
The mats are made of PVC and can be used both indoors and outdoors. The mats are easy to clean and can be reused many times.
For more information about the mats: