Like all your suppliers and service providers, the photographer and the cameraman need a good briefing. Otherwise, there is a risk that the results of their efforts will not live up to your expectations.
Here are some of the main points you should discuss.
Make clear what your objectives are. Do you want their photos and clips to concentrate on the public or the entertainment? Do you want general shots or close-ups? Tell them what you are planning to do with the resultant material. Will it be used for promotional purposes, live projection or as a souvenir?
Agree how long the video clips should last and how many photographs you need and in what sizes. You can also describe the type of shots you are looking for: a full room, laughing faces, well-dressed people, specific moments. If possible, show them some examples from previous events (a so-called mood board).
Make clear agreements about the editing of the video images. Do you want them set to music? Will you use 'free' music? If not, who will pay the royalties? Do you want guests or acts to be interviewed?
Should the photographs be in black-and-white or colour?
Run through the programme with the photographer and/or cameraman, so that they know where they must be and when. Make clear which elements of the programme you want them to emphasise.
Discuss the possibilities offered by the location. Where can the crew put their equipment? What lighting is available? Can they plug into the sound system? 
What dress code do the photographer and the cameraman need to follow? They can hardly wear jeans at a gala ball! Do you want them to be noticeable or would you prefer them to work incognito?
What are the deadlines for the production/delivery of the images? You need to tell your guests clearly when and where they can see or collect the results. For example, at a multiday event you may want to put out a video report at the end of each day. This requires a very precise action plan, which must be strictly adhered to. The plan must contain details of the desired text, images and music, so that these only need to be fitted in during the editing process.
 Agree with the photographer and/or the cameraman who will own the intellectual rights of their work. Also agree the uses to which the images can be put. It would be a pity to have some fantastic pictures of your event, but not be able to use them for further publicity or PR. Also ask for the rough source material: this can often come in useful at a later stage.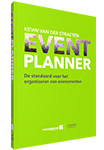 More about this topic and lots of other tips about organising events can be found in the book EVENTS.