A good speaker takes your event to the next level. But how do you get the most out of the speakers you hire?
Speakers can give your event added value in terms of inspiration and learning, but they can also play an entertainment role (for example, presenters or motivation coaches). Here are some specific points that you will need to address working with speakers:
The speakers must be aware of the content of your programme. Discuss with them the objectives of your event and the profile of your target group. This will allow the speaker to assess the likely level of their prior knowledge about the subject, so that he can adjust his talk/speech accordingly. Ask if you can have a look at his drafts, so that you can suggest possible amendments, if necessary.

Involve the speakers in the development of your programme. Agree the running order of the different presentations and the length of time that each should last. Discuss the content of every address with all the other speakers, not just its author. This will prevent repetition or overlapping.

Agree in advance with the speakers how you will let them know when their time is up. A common method is to set up a discreet light at the back of the room, on which an orange light appears five minutes before the speaker must end, and turns to red when these five minutes have elapsed. Alternatively, you can give a subtle hand signal with a previously agreed gesture.

It can sometimes be very difficult to keep the public interested for the duration of your programme. Do all you can to ensure that your guests continue to pay attention. Alternate 'difficult' presentations with less serious subjects. Provide sufficient breaks, so that the audience has time to process the information they have just received. If possible, consider the use of a lighter format, such as a mock tv-show or a theatre performance: this can make your message more digestible, without losing any of its force. It is also important to have sufficient breaks. Never place more than three speakers after each other without a pause. As already mentioned, your participants need time to digest such a large body of information. After three speakers, the audience's concentration level will be falling and their frustration level increasing!

TIP! A There are very few speakers who are capable of keeping a large audience enthralled for more than 15 minutes. So why do we always allocate them 30-45 minutes? 10 minutes per speaker, with an added 5 minutes for audience interaction, is more than enough.

Double-check the presentations on the laptop that is actually going to be used on the day of the event. It is embarrassing if you are unable to start up a funny film or show a clever slide at the right moment.

During the lunch break many participants do more than just eat. They are also busy networking. The moment after the lunch break is therefore very important. Most people's energy levels are still low. Programming a difficult subject at this moment will send most of your guests into sleep mode. So choose something light and invigorating instead!
TIP! A Have the slides in your presentation(s) designed by a professional. A poor presentation can be fatal to the standing of your event. Make sure that the styles of the different presentations are compatible with each other and support your central theme. This gives a unity to your message and will enhance its strength.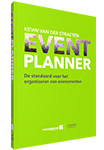 More about this topic and lots of other tips about organising events can be found in the book EVENTS.