Compiling a guest list is time-consuming work. However, you cannot afford to make mistakes. It is an unforgivable sin to forget someone who should be invited.
Ask the help of other departments when you are putting your guest list together. Check with marketing, sales and purchasing. Who do they want you to invite? And don't forget your prospects! If you are organising an internal event, ask the opinion of the human resources manager.
Use your target group description as the basis for your selection. For example, who are 'loyal customers' and who are not. Be consistent in your choice. If you fail to do this, you will soon have an 'out-of-control' guest list with far too many people. This can have serious consequences for your budget.
Additional tips:
If you are organising an internal event, don't forget retired staff, part-time workers, freelancers and even former employees. Try not to forget anyone: cleaners, drivers, etc.
Has your factory recently been rebuilt or radically altered? Why not invite local people and local officials to come and have a look? Perhaps they were inconvenienced during the building works? If so, this is a good way to repay their patience and build up some goodwill at the same time. Open communication can help you to counteract the negative effects of rumour and gossip. You can approach action groups in exactly the same way. Giving people the chance to look behind the scenes at what you do in an informal context can often work wonders.
If you have built up a relationship with journalists of one kind or another, it is better to invite them personally. If you do not yet have the right contacts, send an invitation to the editorial desk of potentially relevant newspapers. Even so remember to be careful when dealing with the press. When you issue a press statement or call a press conference, you always have the strings firmly in your own hands. However, during an event your guests have the opportunity to talk more freely. This means that they can influence the atmosphere more easily, so that you can quickly lose control of your message.
Some organisers make a back-up guest list. This is a list of people who can replace people on the A-list, if these are unable to attend. This can be useful, for example, if you are organising a congress, when it always makes a much better impression to have full hall.
Make the style of address in the invitation as personal as possible, but ensure that the details (titles, names, gender, etc.) are all correct. A mistake in matters of this kind comes across as being very unprofessional and will negatively affect the way the invitee looks at your invitation. Where possible, be aware of and avoid impinging on personal drams. Do not send a 'Mr. & Mrs.' invitation to a colleague who has just lost his wife. Obviously, it is more difficult to check this kind of information for external contacts, but it is unforgivable to make this type of error for internal events. It may be wise to ask the HR manager to have a last look at your invitation list before you put the envelopes in the post.
More tips on planning an event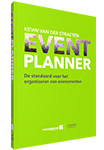 More about this topic and lots of other tips about organising events can be found in the book EVENTS.