Here's the harsh truth about prioritizing tasks when planning events: Often, you'll neglect essential aspects that you think aren't as important as the immediate logistic issues or problems.
We see it happen often, especially when planners take (or, rather, not take) the time to choose a good event photographer.
"Why do I need to hire an event photographer? It's not like these photos are going to be in a book or a magazine. It's a waste of time and money. I'll just ask a friend who has a camera to take the photos, or I can just take photos with my smartphone", you might be thinking.
Suit yourself, yet there are many important reasons why you should hire a good professional photographer for your next event. Think about it: a good photographer means high-quality images you can use for different purposes, such as:
Conserving and sharing the event memories with your attendees. As Kevin Van Der Straeten, the founder of eventplanner.tv and the author of EVENTS 2 - How to organize a successful event? notes, "Images of the public (for example, on the dance floor or arriving on the red carpet at the entrance) are also fun to project. The resultant photos and videos also make a great souvenir for your guests after the event is over."
Promoting the event (if it's a recurring event) and attracting new attendees. Whether it's the second, third, or sixteenth time you are holding that same event, it's always good to impress your potential attendees with powerful photos from the previous years.
Publishing the event outcomes in media or social media. You know the saying: "Pics or it never happened!" The same thing goes for event photos. To ensure good PR for your event, you have to provide quality visual content.
Using the photos as content for your professional site or blog. What if one day you want to create a banner for your site, or enrich your professional portfolio?
Highlighting your events and your skills as an event manager to potential clients. Good photos will positively influence their decision of whether to hire you.
All of this is impossible without hiring a good photographer.
So what do you think?
Did we change your mind?
If so, let's take one more step forward and talk about how to choose a skilled photographer for your next event. There are countless amateurs out there, so how you can be sure that you're hiring a true professional? Here are a few tips to consider when searching for good photographers:
Tip 1. Analyze their previous event experience
Let's clear one thing up: there's a big difference between general (or niche) photographers and event photographers. If you want to be sure about the quality of your event images, you should work exclusively with event photographers.
Because of their specialization and experience, they know how to approach the attendees without disrupting them. They are able to capture the event from many different angles and aren't afraid of taking close-up pictures of speakers or officials who are present at the event.
Tip 2. Check out their portfolio
"I don't know anything about photography. How am I supposed to know if a portfolio is good or not?", you might be thinking. Well, there are big red flags everyone can spot.
Non-professional photographers usually take inclined angles, so you'll find images with people, tables, or objects that seem to be slightly (or heavily) tilted.
Another big red flag is how a photographer captures the event attendees or speakers. Say a firm 'NO!' if you see pictures of speakers with their eyes closed or guests caught at weird angles. Also, be aware of badly cropped photos. You don't want to hire a photographer who takes pictures and 'cuts off' people's legs or bodies.
Tip 3. Pay attention to the questions they'll ask you
When meeting with potential photographers, be sure they ask the right questions and try to understand your needs. Are they asking about the most important event moments you want to highlight? Are they interested in finding out what type of photos (close-ups, general shots, black-and-white) you want?
Are they discussing delivery deadlines and the intellectual rights of the images?
If so, know that you have a true professional in front of you. However, if their questions are vague and general, don't hesitate to schedule new meetings with other photographers.
Wrap up
Finding a good photographer can be a real hassle. Yet, discovering the best one is essential for high-quality documentation of your event. Don't be afraid of dedicating the necessary time to this task. A bad photographer may ruin not only the memories for your attendees, but also your chance of exploring the potential of your event images. A first-rate photographer, instead, will provide the best results and deliver high-quality work.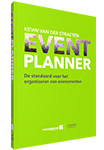 More about this topic and lots of other tips about organising events can be found in the book EVENTS.