Your event does not end when the last attendee leaves the venue. The post-event work is just as important and significant as the planning efforts.
From following up with the attendees to identifying what can be improved for next time, the post-event work involves in-depth analysis and data management. Apart from that, this posterior work can lay the foundation for your next edition's success. To make this happen, you must think about a marketing strategy that will help you strengthen the community you gathered during the event.
One of these practices is to design an epic post-event website that will incite the curiosity of your ex-attendees. Moreover, your post-event page can help you gather new followers (aka potential attendees) and increase the brand awareness of your event. Obviously, along with designing a website that will have the event information and goodies, you also have to have an efficient marketing strategy in place.
However, the success of your post-event site will depend mostly on how well you structure the content and make it interesting for both your past and future attendees. Here's what we mean:
Tip 1. Create a photo repository
One of the event planning prerequisites is to hire a professional photographer who'll ensure your visual content is high quality. It's important to capture every single dynamic in photos; however, it's not exactly necessary to upload all the photos to your site.
What you can do, instead, is create an attractive Instagram account for your event and publish your photos there. Subsequently, you can use an Instagram code and insert it into your post-event page for people to click on and see more photos.
Now you have the perfect excuse to keep interacting with the attendees after the event. You could even come up with a hashtag for the event and ask your guests to publish photos from the event on their own Instagram accounts, so you can repost them on your main account. You can also run a series of photo contests.
Apart from that, you can use Instagram as a platform for storytelling, thinking about useful and valuable captions for each image.
Tip 2. Publish event videos and interviews
We'll be discussing the importance of using YouTube for your event in another article. However, to build an epic page, you should definitely consider including videos from the event.
You can upload the roundtables and the keynote speeches. Or take it a step further and produce a series of in-depth interviews with the speakers and talk about their presentations. After you publish these videos on YouTube, you can create separate posts with the script of the videos (for SEO reasons) or brief written introductions.
This will help your attendees keep their memories fresh and be able to review the speeches and the speakers' insights.
Tip 3. Generate written content
There's nothing more powerful, SEO-wise, than written content. While substantial written content requires time and specific resources (for example, engaging the services of freelance writers), the results and outcomes may be massive.
If you consider studying the industry keywords and creating written content that is extremely valuable for not only your ex-attendees, but also other people, you'll increase your chances to strengthen the brand identity of your event, and also gain much more followers.
Tip 4. Offer some useful lead magnets
One of the reasons why you may want to design an epic post-event page is to attract new potential leads (aka future attendees). But how does this entire mechanism work?
First, you must create your mailing list (to be able to send future event invitations). This is only possible if you offer lead magnets. A lead magnet is a piece of content or useful document that site visitors are willing to download by disclosing their email and personal data.
(Note: Be sure that the data you ask for respects the new GDPR law, in the event some of your site visitors might be EU citizens.)
To build an attractive lead magnet, you'll have to know exactly what your attendee personas' burning pains are and how to address them (by offering quick solutions) through an easy-to-digest document or piece of content.
Tip 5. Sustain your page with fresh content
Who says your page only needs to have post-event content? To keep your page interesting and attractive for your former attendees and new followers, try to always publish fresh content and keep your website lively.
There's nothing worse than having a forgotten, stale post-event page that you put so much effort into creating become a faded memory.
Leverage your post-event page and stimulate the followers by building a strong community around your event's brand.
Wrap-up
If you remember just one thing from this article, let it be this: Your post-event page is not a site to store archived content. If built and maintained correctly, a post-event page is a powerful marketing tool that will strengthen the identity of your event's brand.
You can always use it as a lead generator and a place for interaction, where the community can find like-minded people and be up to date with the new events.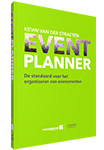 More about this topic and lots of other tips about organising events can be found in the book EVENTS.